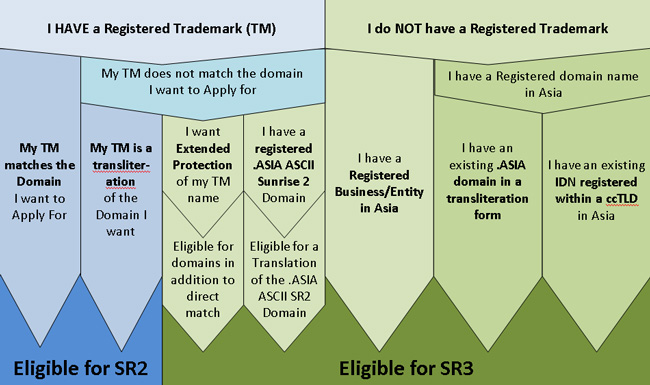 NOTES:
All Sunrise phases will proceed in parallel, from May 11 - July 20, 2011.
Applications received for SR2 and SR3 phases will be treated as received at the same time, with priority maintained (i.e. SR2 over SR3).
Applications for SR2 are automatically considered for SR3 (if it is found not qualifying for SR2); and applications for SR3 are automatically included into Landrush (if it is found not qualifying for SR3). Laundrush will commence from Aug 02 - Oct 11, 2011.
If there is only one success applicant for a domain, it will be allocated to the applicant. If more than one applicant to the same domain passes the verification process (for the same priority), all successfully verified applicants will be invited to bid for that domain in an auction.
Eligible Registered Domains in Asia must be registered on or before May 10, 2011 to participate in Sunrise.
申请.ASIA中文域名日升期(Sunrise) -- SR2与SR3的资格要求概要: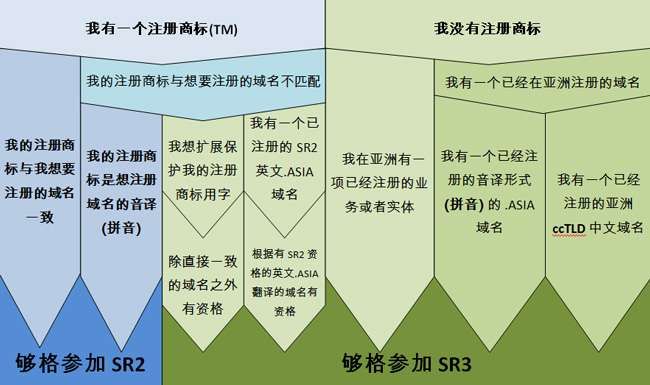 注意:
不同的日升阶段是并行的,日期是从 2011年 5月11日 - 7月20日。
在SR2和SR3的规定日期中提交的申请都被视为同时提交,只有优先权不一样,SR2优于SR3。
对于不符合SR2规定的申请将自动转为SR3,不符合SR3的申请将自动转到抢滩期(Landrush)。抢滩期具体日期为2011年8月2日 - 10月11日 。
一个域名只有一份成功申请的时候,将分配给申请者。当一个域名有多个成功申请者并且优先权一样时,所有成功申请者会被邀请参加该域名的竞价。
必须在2011年5月10日当日或者之前在亚洲注册域名才有资格参与日升。